GEORGIA STATE UNIVERSITY CIBER
The Georgia State University CIBER worked in partnership with Global Atlanta, a global news media source, and Habif, Arogeti & Wynne LLP, an Atlanta CPA firm, to conduct a survey of over 120 Georgia exporters. Among others, survey results include data on how Georgia exporters entered the global markets, how their human resources strategies have changed based on exporting goals, and factors respondents feel are important when considering their next exporting market. Survey information was used to generate the graph below highlighting currency fluctuation as the largest challenge to expanding exports in 2015.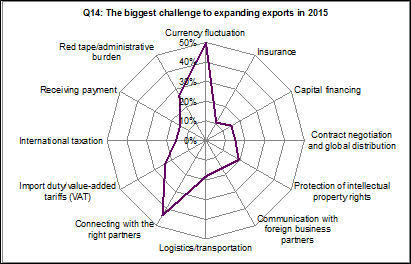 Georgia State University CIBER faculty and students assisted with the questionnaire design, data collection, and data analysis. Survey findings were used to provide guidance to aspiring and existing exporters who attended Global Atlanta's second annual Export Stories special report preview held on January 21, 2016.  More on the presentation can be found here.