The George Washington University CIBER
Short-term Study Abroad Course for Undergraduate Students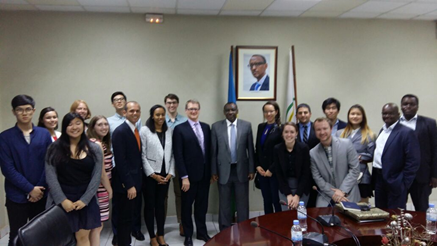 The Spring 2016 Rwanda STAP group with Ambassador Claver Gatete, the Minister of Finance and Economic Planning (under a photo of President Paul Kagame).
The course was led by Dr. Reid Click, GW-CIBER Director.
This short-term study abroad (STAP) program explores the role of institutions in economic development by examining the case of Rwanda, a landlocked country in Sub-Saharan Africa known for its picturesque terrain as the "Land of a Thousand Hills." Approximately the size of Maryland, and with more than 12 million people, it is the most densely populated country on the continent of Africa. Of 185 countries in World Bank rankings, Rwanda is also the 16th poorest country in the world with per capita GDP of just $639. The country is known for the genocidal mass slaughter in 1994, the subject of the movie Hotel Rwanda released in 2004. The country has made extraordinary progress since the 1994 genocide, and despite enormous post-conflict challenges, its previous per capita GDP was restored by 2005. Without any petroleum or mineral wealth, the economy is dependent on: (1) coffee and tea exports, (2) tourism based on trekking mountain gorillas in the Virunga Mountains, and (3) extensive foreign aid. Although Rwanda remains one of the poorest countries in the world, it has also been one of the most successful economies among developing countries in the last decade due to aggressive institutional reforms. Real growth averaged 7.6% per year from 2005 to 2013 at a time that world growth averaged 2.3%. At the same time, Rwanda's institutional reforms propelled it from 139 in the World Bank's Doing Business rankings in 2006 to number 62 in 2016. This course studies the link between institutional reform and growth and development, particularly providing opportunities to explore the relationship between business and government.
During the residency, students gain exposure to various institutional actors, including (1) multilateral and bilateral donors, (2) Rwandan government ministries and institutions, (3) local and multinational corporations and entrepreneurs, and (4) local financial institutions. In addition, there will be local engagement with the Bridge2Rwanda Scholars Program, an innovative gap-year program preparing talented Rwandan high-school graduates for study at colleges and universities in the U.S. and the U.K. Interaction between George Washington University students and Bridge2Rwanda Scholars will facilitate an exchange of perspectives.
The objective of this program is for students to be able to:
Understand the importance of institutions in economic development.
Demonstrate a thorough understanding of institutional development in Rwanda.
Engage professionally in the business environment of a developing country.