THE GEORGE WASHINGTON UNIVERSITY CIBER
Professional Development Seminar for Language Instructors
Part I held on May 9, 2015
Part II to be held on April 9, 2016
A professional development seminar on teaching business languages. The seminar focus is on International Marketing, with special attention to teaching approaches for business language instructors. The seminar is targeted at higher education and K-12 language faculty, as well as language instructors at organizations such as the World Bank. The participants learn about business language teaching methods and exchange ideas across different institutions and languages. The seminars are taught by GW-CIBER's Business Language Coordinators Drs. Margaret Gonglewski and Anna Helm.
Internationalizing the Business Curriculum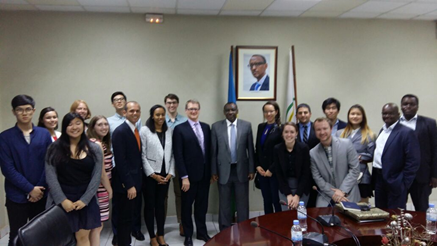 A Faculty Development Workshop Series for faculty at MSIs and Community Colleges
The objective of this cohort-based program, offered by GW-CIBER in partnership with Howard University School of Business, is to assist Minority Serving Institutions and Community Colleges from the Mid-Atlantic region with their efforts in globalizing their business curricula. The participants receive training, expertise, and resources for teaching and research in several functional fields. To create a modern, innovative program, globalizing these fields are discussed through the lens of GW-CIBER's theme of Institutions, Policies, and Development in International Business. Two upcoming workshops of this series will be held on May 6 and June 3. The workshops are led by GW School of Business faculty as well as guest presenters.