Texas A&M University CIBER
A team of four students from Texas A&M University's Mays Business School took third place at the inaugural BI International Case Competition 2016 on February 18, 2016 in Oslo, Norway. The Mays team was the only one invited from the United States.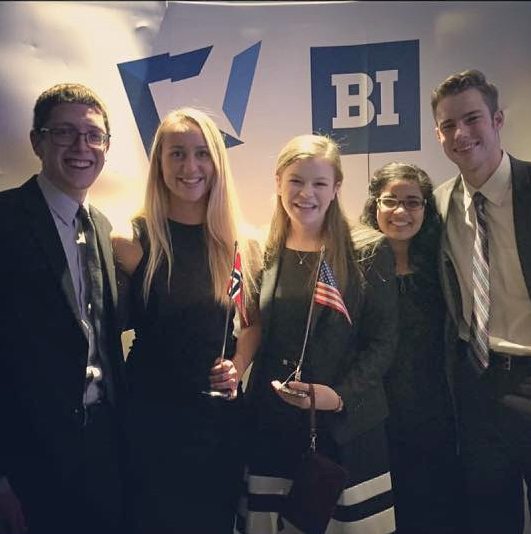 Competing against 11 other teams from around the world, Andrew Winker '16 (PPA & Business Honors), Layeeka Ismail '16 (PPA & Business Honors), Hope Miller '17 (PPA & Business Honors) and Nathan Shaub '17 (Supply Chain Management & Business Honors) had 32 hours to solve a real-life business case and organize a presentation for a corporate judging panel.
The business case was unveiled Tuesday morning, and the students worked diligently – sequestered –until Wednesday evening, when they had the opportunity to rest. The final presentations were Thursday morning.
The team's accomplishment was the result of months of preparation by the students, with the help of Mays faculty and staff. Peter Drysdale, director of Undergraduate Programs at Mays, accompanied the students to Oslo. The team practiced multiple cases and received feedback from various faculty members throughout the fall semester and until their departure.  The case competition, in its inaugural year, drew participants from all across the globe. The final lineup included teams from Canada, Europe, Serbia, China and Australia.
Mary Lea McAnally, Phillip Ljungdahl Chaired Professor of Accounting and Interim Director of Innovation and Strategic Planning for Mays Business School, said she was impressed by more than the team's strong finish. "Perhaps more impressive was their dedication and hard work. Their advance preparation, the travel and the competition itself were so intellectually and emotionally intense that the experience created memories that will stay with them for the rest of their lives," she said. "I am also grateful for the Mays faculty and staff who came together to support the team as they trained and prepared themselves. As they say: It takes a village!"